The Hurme family's log home is a unique example of a log house solution where there has been a desire to actively participate in the construction of their home. Personal expertise has allowed for the implementation of a personalised and stylish entity in this log house too.
Aleksi Hurme has just finished with his work day and calls from the outskirts of Turku, from Mynämäki. Aleksi, who lives in the area with his wife and son, is excited to present his two-storey log home, which he has partially built himself.
Right from the very start of our conversation, it is obvious that their detached home represents modern log house construction. In case of these Mynämäki residents, we can easily refer to a smart home – the solutions concerning home technology shall be further delved into later in this article.
– Our log house is, in practice, 99 per cent ready, we are still carrying out, for example, some final touches concerning the trims and finishing work, Aleksi says with satisfaction.
For the final inspection, a garage will still be built in connection with the detached house, and there is plenty of enjoyable activities for next summer when garden and green construction has been planned to be carried out. The Hurme family also has a swimming pool, and a garden sauna shall be built in its vicinity at some stage.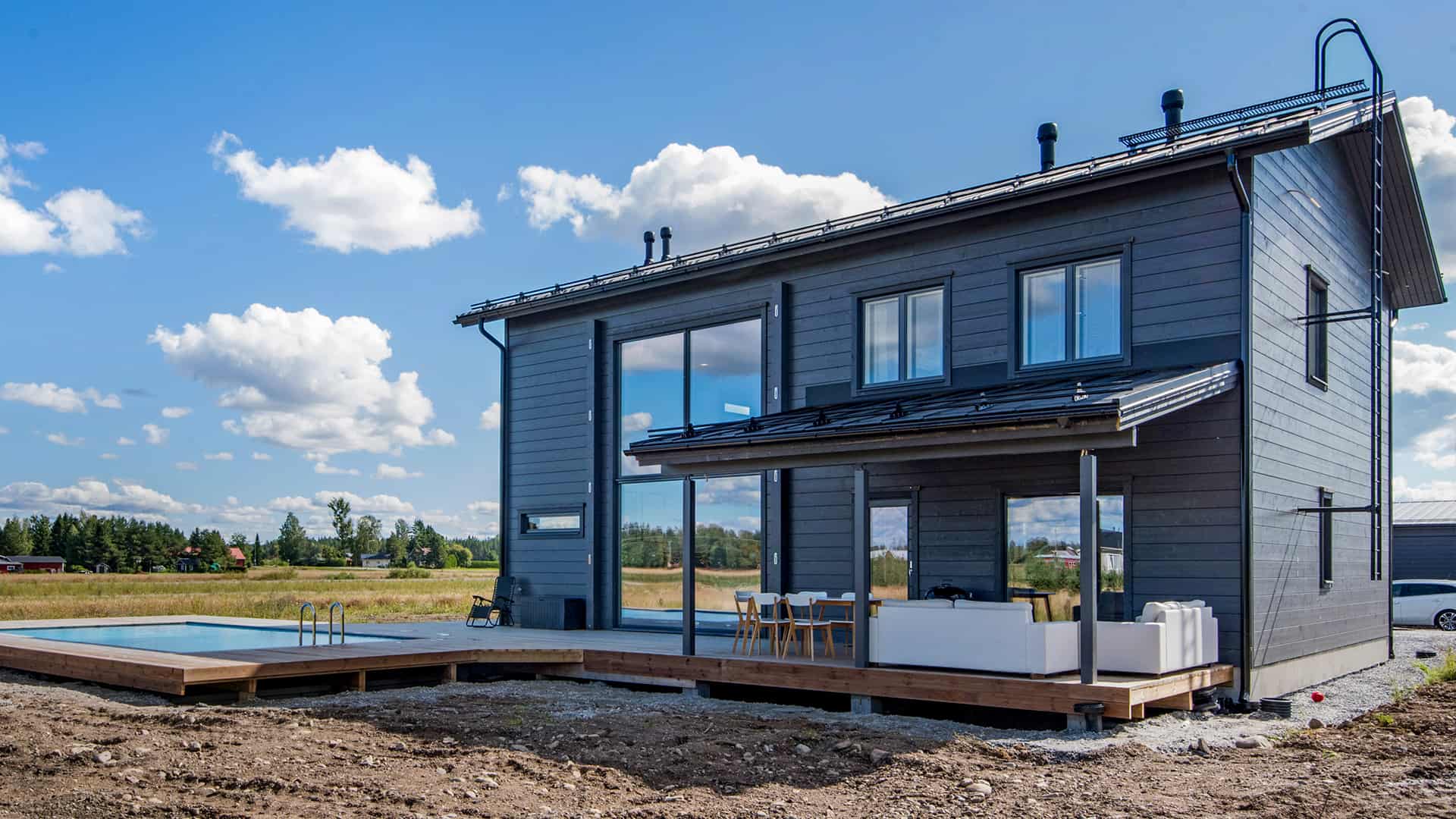 Log House X 2
In the end, the decision of a log house was a clear choice for the Hurme family, although different options were carefully considered during the planning stage. The family has an existing pleasant cabin made of round logs, so the detached house was wanted to be clearly more modern.
The Hurme family visited, for example, Naantali for inspiration where they familiarised themselves in a two-storey white-treated log house solution. A couple, who are their friends, also visited the same site. The end result of this "excursion" was that both the Hurme family and their friends selected log as their material and Kuusamo Log Houses as their supplier. The total surface area of the Hurme family's log house is 218 m².
– We personally like modern log house construction in particular, mentioning details such as sheered corner joints and beautifully treated logs.
During their previous detached house purchase, their current life situation defined the Hurme family's choices more. Now we were able to implement a home in which we didn't have to make compromises on the end result.
– For our new home, we were able to obtain such building solutions that we are extremely satisfied with.
The launch for building their own home started in 2018 when the Hurme family went and reserved a plot. To begin with, a location for their home was sought in Turku, mainly due to the children's ice hockey and music hobbies, but in the end Mynämäki, Aleksi's home region, was chosen.
– We have lived here before. This is a nice place for our family to live.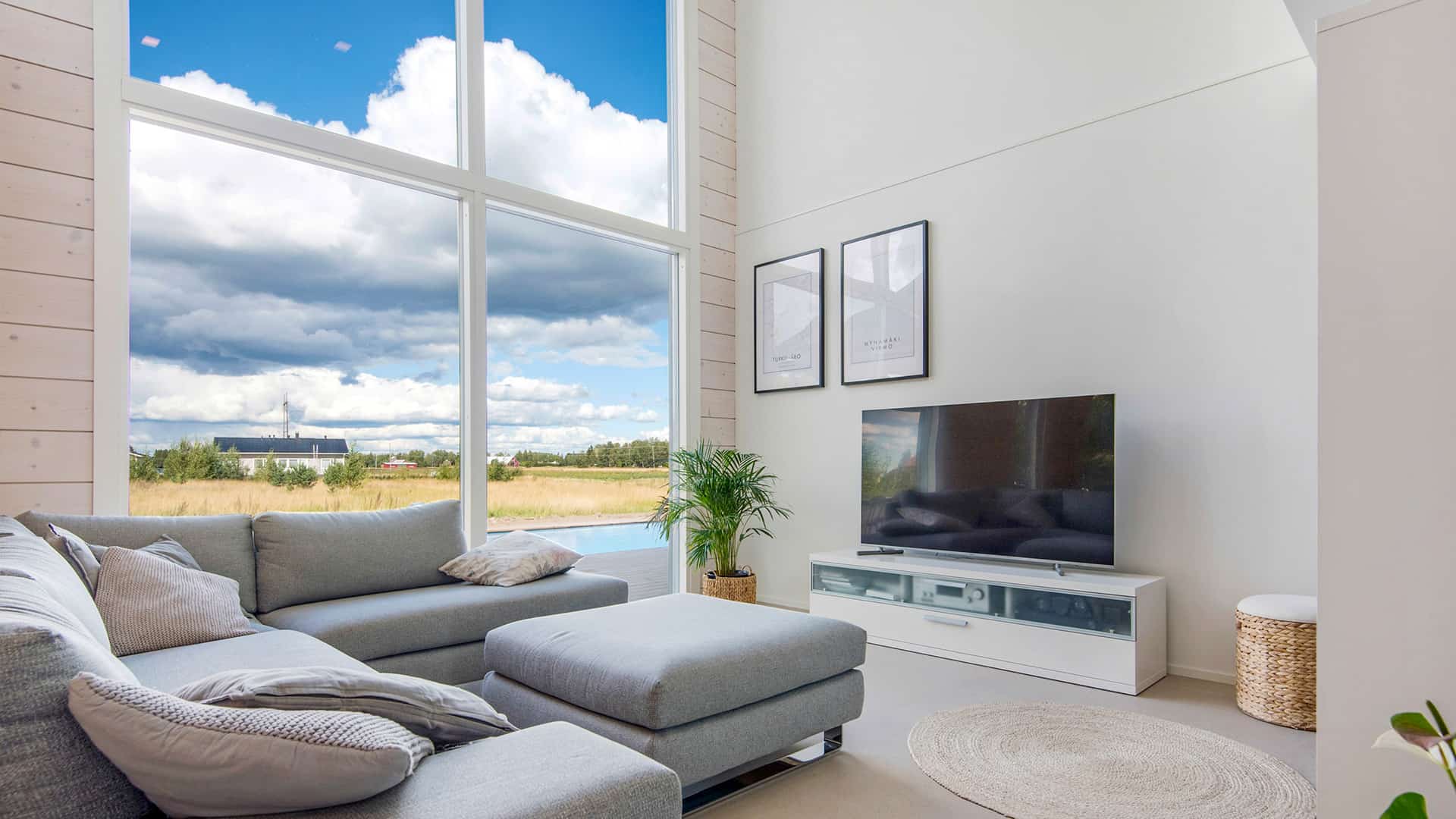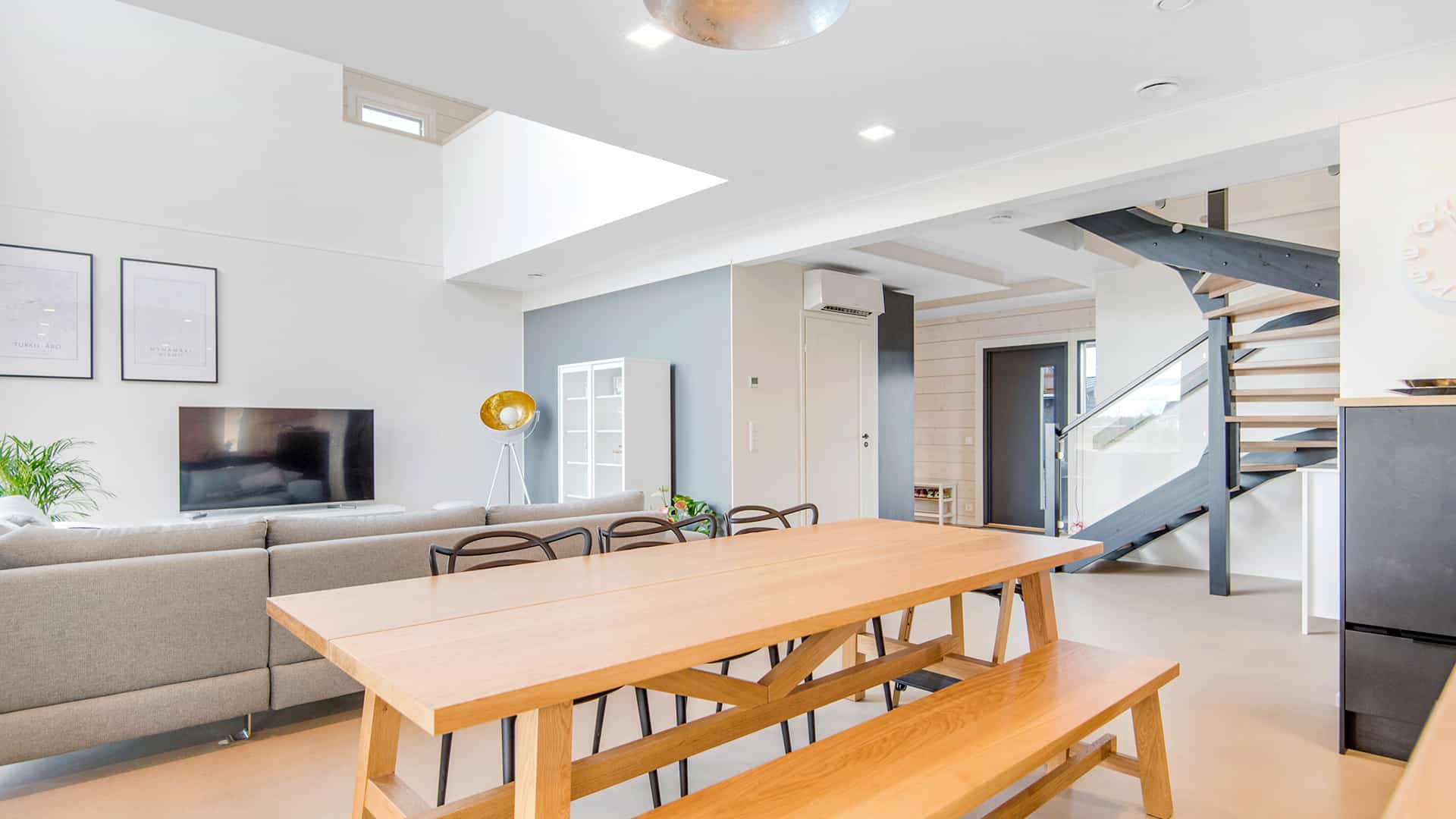 Smart home controls, customised details
Since Aleksi had strong professional skills in electrical work and a vision of a modern home, he carried out practically all the electrical work in the house and chose a home control system, which makes everyday life smoother and also provides savings. The family's home has an abundance of customised details.
– Usually, for example, a bedroom has five switches that are needed to turn on the lights, dim them or turn them off. A smart home enables the opportunity to make these adjustments on a mobile phone.
A lot of LED strips and flush-mounted lights have been used in the Hurme family's log home. In this detached home, indirect lighting is mainly used, and it has been implemented in e.g. The utility room and bathroom. All in all, the house has hallway lights, lobby lights, railing lights as well as floor, ceiling and wall lights. And the garden area, of course, has its own lighting.
– In a typical detached house, an estimated 5-10 metres of LED strips are used, in our house together with the garden area, we have used approximately 120 metres. A home of a similar size usually has 20 different light sources, in this house there are 35, says Aleksi Hurme.
For example, the family has selected certain lights for morning lighting and evening lighting, which automatically turn on and operate in a desired manner – for example, according to the children's timetables. If necessary, the residents can easily change the adjustments and settings according to the seasons and the situation of everyday life.
Remote controls for everyday life
The ABB-free@home home control system is at the centre of it all. It allows the Hurme family to control the home automation in their log house from different types of switches, but smart phones and automation play a major role in the controls, which also has environmentally friendly effects.
– If we are, say, a certain distance away from the log house and heading further away, ventilation and heating are reduced according to our set levels, and the outdoor and indoor lights are turned off and respectively turned on. In practice, our home goes into an energy-saving mode if we are away for a longer period.
– The system is also the type that it can imitate our previous actions, Aleksi says as he summarises the features.
User comfort is increased in even the most typical everyday situation where Aleksi and his wife do not need to necessarily go downstairs to open the door for guests, instead a smart phone can be used to see who is at the door and the lock can be opened directly from the mobile phone.
Similarly, the door can be opened remotely from a work station or site for a professional who has arrived to carry out maintenance work at the house.
– Easy effortlessness in everyday life wherever you might be.
Kuusamo Log Houses' delivery content allows independence
There is often a desire to personally customise the delivery contents, which is what was done with the Hurme family's house too. In addition to Aleksi being intrigued by the stylishness and environmental friendliness of log construction, he also wanted to make his home unique in terms of electrification and building technology related issues.
– In our case, the Kuusamo Log Houses delivery package was such that the log structures, windows and entrance doors, intermediate floor beams and timber was delivered to the plot for our two-storey home. Actually only the roof's sheet metal was missing.
The Hurme family's building project is a great example of a customer acquiring a timber delivery easily from their chosen log house factory but independently concludes a contract on the actual construction with a chosen construction company.
When operating with Kuusamo Log Houses, the Kuusamo Representative of each area can help a customer planning on constructing a log house in choosing the suitable delivery content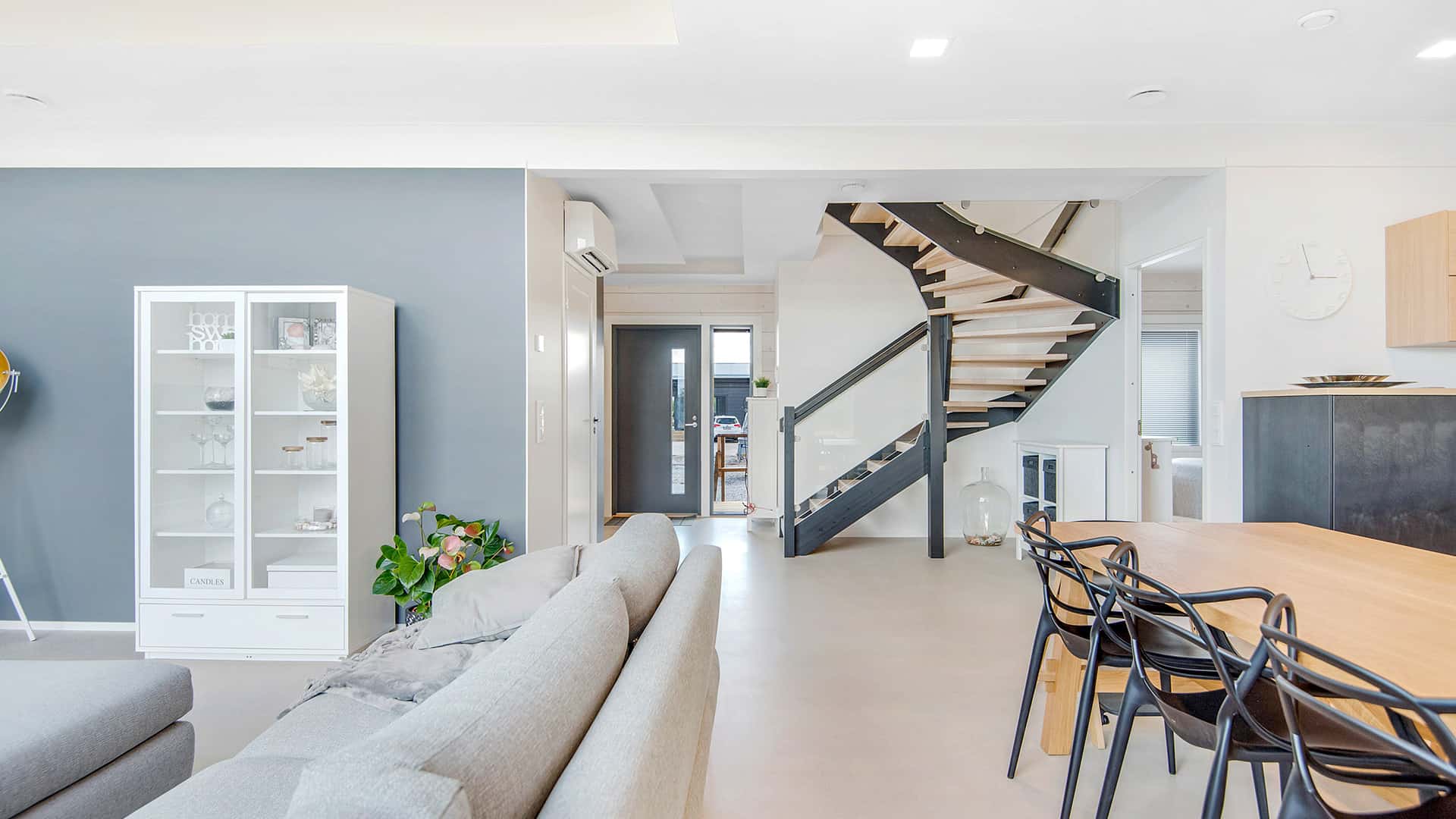 The Hurme family concluded a contract on a weather-protected entity with a local contractor. There were also other skilled professionals helping with various work stages of the construction work, such as the foundation work and machinery work.
Professionals carried out work related to, for example, the piling, hollow core slabs, insulation and panelling. In addition to electrical design and electrical work, Aleksi took part in the work that he was capable and had time to do.
– The construction at our site was not subject to any strict schedule, instead the work was suitably paced and the work progressed naturally.
The Log House became true
The construction methods of a detached house can actually be split into three different methods, the house is completely built by yourself, the house is partially built by yourself or you don't participate in the construction of the house at all.
A log house that has been partially built by yourself is an excellent way to make your own home dreams true, if you are looking for a balance to construction in such a way that you want a certain level of easiness but also the opportunity to implement solutions that fit your style.
– In my opinion, this type of implementation is suitable for almost anyone who can use a circular saw and wants to participate in the construction work, Aleksi summarises with a smile.
When you carry out part of the construction work yourself, it is easy to agree on the scope of the contract and schedules according to your own life situation. And then of course, you can make your own hand print visible in the built home.
You can also familiarise yourself with the Hurme family's log home via a virtual house showing.
More information about log construction
See our article: 5 Things to Know Before Starting Construction Work
See our log selection.
For Log home dreams we recommend
Check out the virtual house show of the Hurme family's log home: Log home 218 m²
View the Kuusamo Log Houses collection
Contact your local Kuusamo Representative and ask for more information about the different options