If you are interested in the Nuuna Log Home, you can take our virtual house tour. Don't forget our other tours and shows.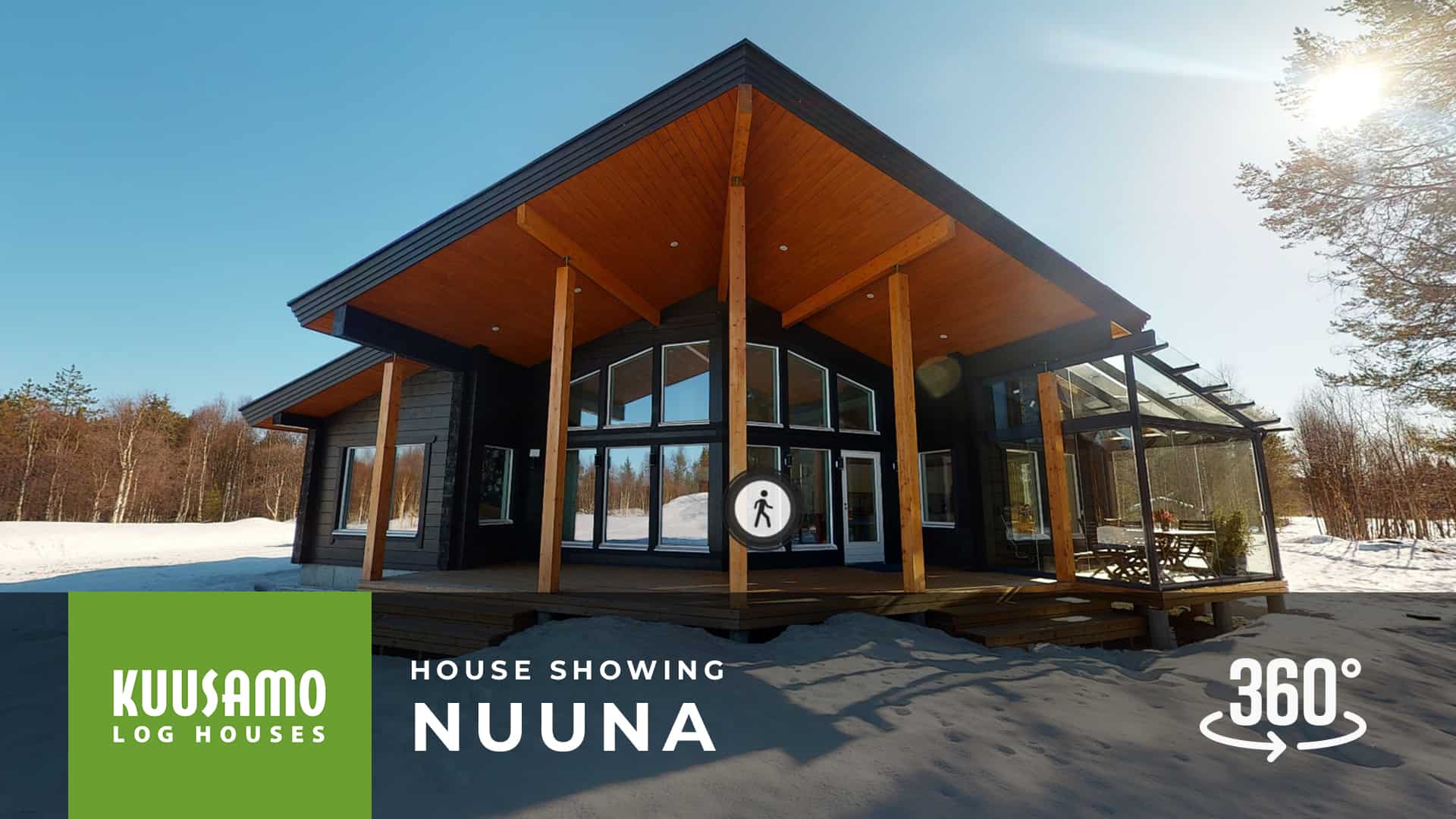 Facts
Model: Log Home Nuuna 107, customer modification.
Log: laminated log LHM 202×220 mm
Corner type: cross corner joint
Floors: 1
Floor area: 107 m²
Bedrooms: 3
Notes: The Nuuna Log Home is a customer modification of the Nuuna 87S log villa.
How the Nuuna Log Home was made
The starting point for the Nuuna 107 Log Home customer modification was the desire to have three bedroom instead of the two in the original model. Thus, the following modifications were made among others:
The wings were widened. This created some more room for the bedroom, the kitchen, and the washroom.
The wings were lengthened. This made it possible to have two small bedrooms in the left wing without losing much kitchen space. The washrooms in the right wing were modified according to the wishes of the family.
The fireplace was moved into the middle of the living space to delimit the entrance hall as a separate space.
Interested in the Nuuna Log Home?
Kuusamo's Nuuna models are real charmers every year. The interiors of the Nuuna villas and log homes seem much bigger than the floor area would suggest thanks to their large windows and wide open feel. Nuuna models can also be modified in many ways. For example, if you do not need a sauna, or if you want to move it to the front of the building where a bedroom normally is, the room arrangement is easy to change.
Our virtual house showing also includes tours of two other Nuuna models. You'll want to see these!
Are you dreaming of something like the house in the virtual show?
Please keep in mind that all Kuusamo log houses and holiday homes are modifiable. Your local Kuusamo Representative will be happy to help and provide additional information on the different options. Contact your nearest Kuusamo sales representative.