Kuusamo Log Houses moves from a Platinum AAA rating to a Diamond AAA rating, which only 0.1% of Finnish companies can achieve.
The AAA credit rating of Kuusamo Hirsitalot Oy in 2020 is Diamond AAA. The requirements for the rating include that the company has achieved the highest AAA credit rating for more than ten consecutive years. In Finland, there are currently only 348 companies that hold a Diamond AAA rating. This equates to one per mille of all Finnish companies. In the house building sector where competition is strong and the business fluctuations are great, the achievement is particularly rare.
The annually issued AAA rating can be obtained by companies that have particularly strong financial key figures, a positive background and payment behaviour as well as a sufficient volume of operations. The issuer of the rating is the developer of the AAA company rating system, credit rating company Bisnode Finland Oy.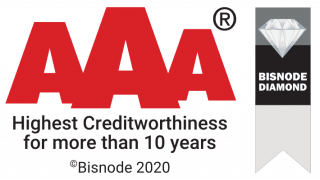 "To us, a credit rating is not an absolute value. It is the gratitude gained as a side product for the sensible use of money, patience, a grounded attitude and humble work. In these difficult times, a solvent and reliable partner is particularly important to our customers, employees as well as all our stakeholder groups," says CEO Arto Orjasniemi as he comments on the recent news.