Kuusamo Log House's good and stable development continues last year too. Its turnover grew to 15 million euros and the development of sales was exceptionally good. Due to its positive sales development, the current year has had a busy start and a significant growth in turnover is anticipated.
Kuusamo Log Houses responds to the significantly growing sales and turnover by investing in the construction of a production line that represents the most recent technology, the expansions of production facilities required by the new production line, as well as premises required for the storage of raw materials. The investments will reach a total of approximately two million euros. Kuusamo Log Houses wishes to continue to be a pioneer in quality in the log industry with its top northern wood raw material.
"Detached houses have become our largest sales article".

Arto Orjasniemi, Managing Director
The new production line with significantly increase the efficiency of production and will support the introduction of new planned products, both in Finland and in export markets. Investments shall be carried out for the log home factory situated in Kuusamo during the years 2019 and 2020. Investments are expected to further improve the company's competitivity, create new jobs and allow the growth of turnover.
"The investments support our chosen strategy and strengthen our operational capacity in the growing market. Detached houses have become our largest sales article and they require increasingly more diverse special processing, which we aim to gain additional capacity with the new production line. The sales record from last year and the strong order base of the current year give faith in the fact that we are working with the right product and we also believe in the strong growth of log construction in the future", comments Managing Director Arto Orjasniemi.
The environmental friendliness of log homes and the scientifically proven healthy indoor air have become important criteria in the selection of house packages. In the future, even quicker structural solutions and a more modern appearance will be required from log construction. For example, the non-settling log and the modern log profile have been developed as solutions for this. The previously mentioned points have increase the popularity of log homes in urban planning areas too.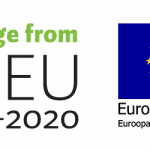 The Finnish Sustainable Growth and Jobs 2014-2020 structural fund and the Northern Ostrobothnia ELY centre help Kuusamo Log Houses to implement the project.