The 25-year-old company Kuusamo Log Houses is a financially sound and dependable operator on the log home market, but what does that mean in practice? In this news item, we discuss the financial status of Kuusamo Log Houses in more detail and talk about what the key figures mean and which things customers should be aware of.
In Financial Terms, Our Business Is One Of The Top Companies In The Industry in Finland
Throughout the years, the operations of Kuusamo Log Houses have been measured, which has helped in making the company one of the top companies in the field financially. Each financial year in the course of the company's 25-year-long history has ended with a positive result, and its equity ratio for the financial period 12/2022 is 81.5%.
– We've accumulated capital and buffers little by little; thanks to that, we can now face these challenging times with our minds at ease. A well-functioning economy also improves the security of our customers, says Kuusamo Log Houses Managing Director and Partner Arto Orjasniemi.
– Kuusamo Log Houses can present concrete numbers proving the company's strong financial position. When choosing a partner for your building project, I recommend taking a look at the background information of available house suppliers, Arto Orjasniemi continues.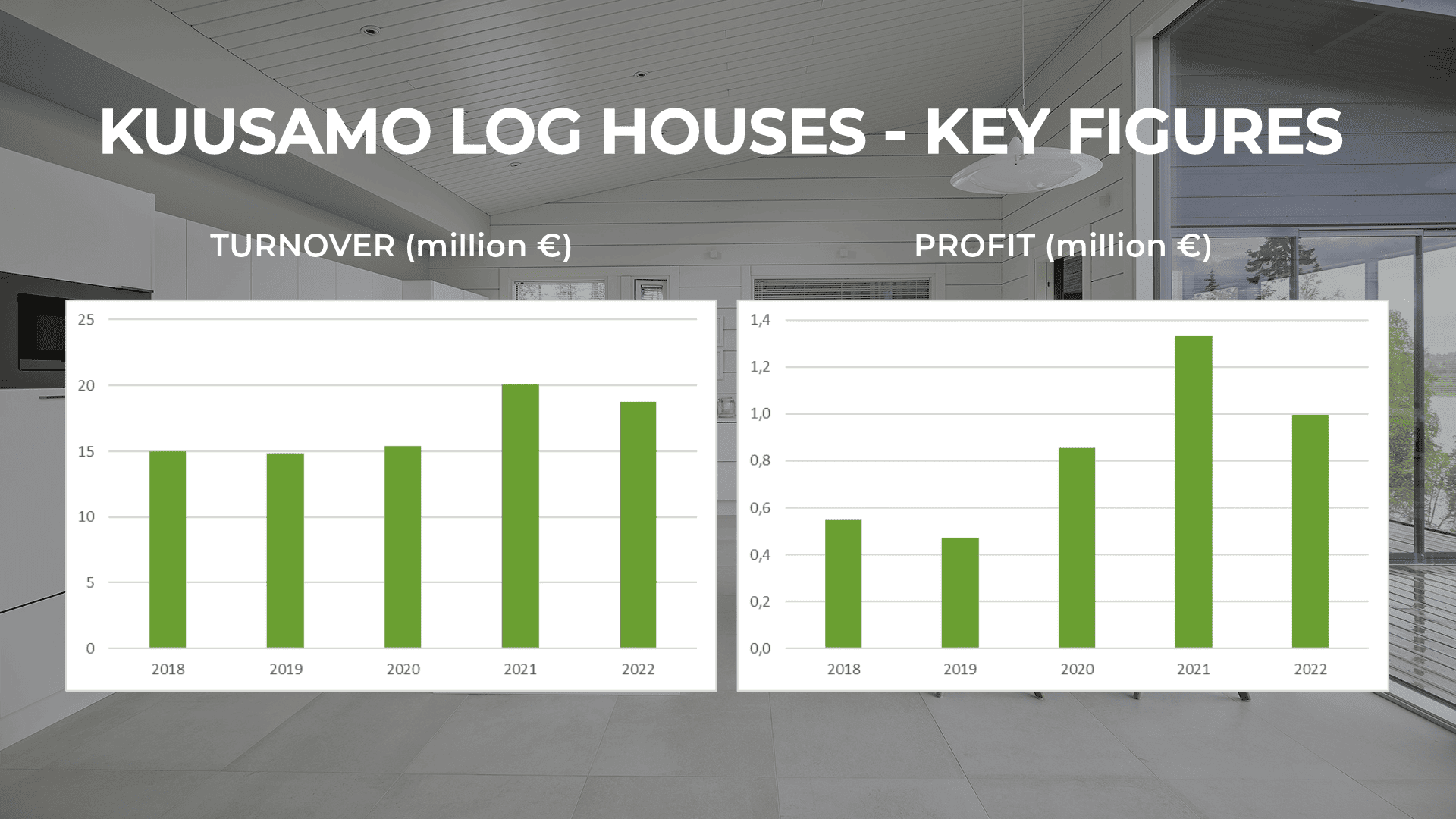 A company's size or history will however not always show everything there is to know about its current state. This is why it is a good idea to pay attention to current liquidity in addition to equity ratio.
According to a report by Suomen Asiakastieto Oy, Kuusamo Log Houses has excellent liquidity: Quick ratio is 3.6, and forecasted payment behaviour over the next 9 months is at an excellent level.
Our Credit Rating Is AAA
The credit rating of Kuusamo Log Houses is AAA. In 2023, 2.5% of all Finnish companies can say the same. In the house building sector, where competition is strong and business cycle fluctuations are great, this achievement can be considered particularly good.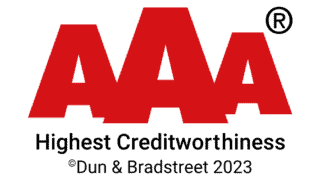 The annually issued AAA rating can be obtained by companies that have particularly strong financial key figures, a positive background and payment behaviour as well as a sufficient volume of operations. The issuer of the rating is the developer of the AAA company rating system, credit rating company Dun & Bradstreet (formerly Bisnode Finland Oy).
Our Customers Get Guarantees For Advance Payments
Kuusamo Log Houses issues a guarantee backed by the insurance company LähiTapiola for advance payments until the time of delivery. In practice, this means that if the goods are not delivered and the contract thus goes unfulfilled, the customer can demand the advance payment back from LähiTapiola.
Views Into 2023 And 2024
The demanding state of the construction industry will impact our turnover in 2023 and 2024 as well. Our turnover for 2023 will be somewhat lower than for our peak years due to the current phase of the cycle. For 2024, we predict a year similar to 2023.
– Kuusamo Log Houses has adjusted its activities due to the changing turnover, and, despite the cyclical challenges, our operations continue on a stable and healthy foundation even through these difficult years. Customers should feel perfectly safe to choose us as their house supplier, summarises Managing Director Arto Orjasniemi.
What Is Equity Ratio, Credit Rating, And Quick Ratio?
Equity ratio
Equity ratio is a measure of the solidity of a company's finances and its ability to withstand losses and complete all commitments in the long term. The number indicates how much of the company's assets are financed with own capital as opposed to foreign capital, i.e. loans.
According to Osuuspankki bank, an equity ratio of over 50 percent is considered excellent and an equity ratio of 30 to 50 percent is considered good.
Credit rating
A company's equity ratio describes its ability to take care of its financial obligations, such as loan and bill payments. Credit rating will make it easier for other companies, financial institutions, suppliers, and other stakeholders to estimate the risk level of the company in its operating environment.
In order to achieve a AAA rating by Dun & Bradstreet (formerly Bisnode Finland Oy), the company's turnover must be over 170,000 euros, its return on investment must exceed 15 percent, and its equity ratio must be in order. Debt to equity ratio and liquidity key figures will also be considered. In the AAA class, all key figures must be at the best level at the same time. If this is not achieved, but the key figures are at a good level nonetheless, the credit rating will be set at AA.
Quick ratio
Quick ratio is a financial indicator measuring the strength of a company's ability to make short-term payments. It is a formula that gives an idea of how well a company is able to pay off its short-term obligations using quickly available liquidity, such as cash and easily realised investments. Quick ratio paints a picture of how well a company could survive if it needed to pay all of its short-term obligations at once. Quick ratio is excellent when over 1.5 and good when between 1.0 and 1.5.