We called building engineer Johannes Määttä and asked the merited building contractor about his experiences and thoughts concerning winter construction.
In Finland, there is a habit of building during the summer and curling up on the sofa during the frost winter conditions. Some may even consider winter construction to be impossible due to the weather conditions. House developers may however offer winter builders winter delivery benefits, which may allow for some flexibility in the building budget.
So, is it worth building during the winter? What should be considered when building during the winter? We called Rakennus PoPo Oy's* construction engineer, Johannes Määttä, and asked the experienced building contractor for his perspectives on winter construction.
THE WINTER WEATHER CONDITIONS ARE FAVOURABLE FOR LOG CONSTRUCTION
When discussing winter construction, Johannes starts by immediately emphasising the winter weather conditions.
– The winter conditions in the winter are more steady than in the summer.
At the same time, he brings up an issue, which few will know to acknowledge when considering construction in the winter months.
– My feeling is that the weather forecasts in the winter are more accurate and this allows the log frame assembly schedule to be easier to predict.
Even if you are surprised by snowfall, but because its lower moisture content, it is a better option than the summer season's rainfall. Frost doesn't slow down work either, quite the contrary. During frosty conditions, the air is dry and the log frame is good to assemble. Snow, in fact, keeps the logs clean.
– You can always cope with the cold if you have appropriate clothing, Johannes underlines with a smile.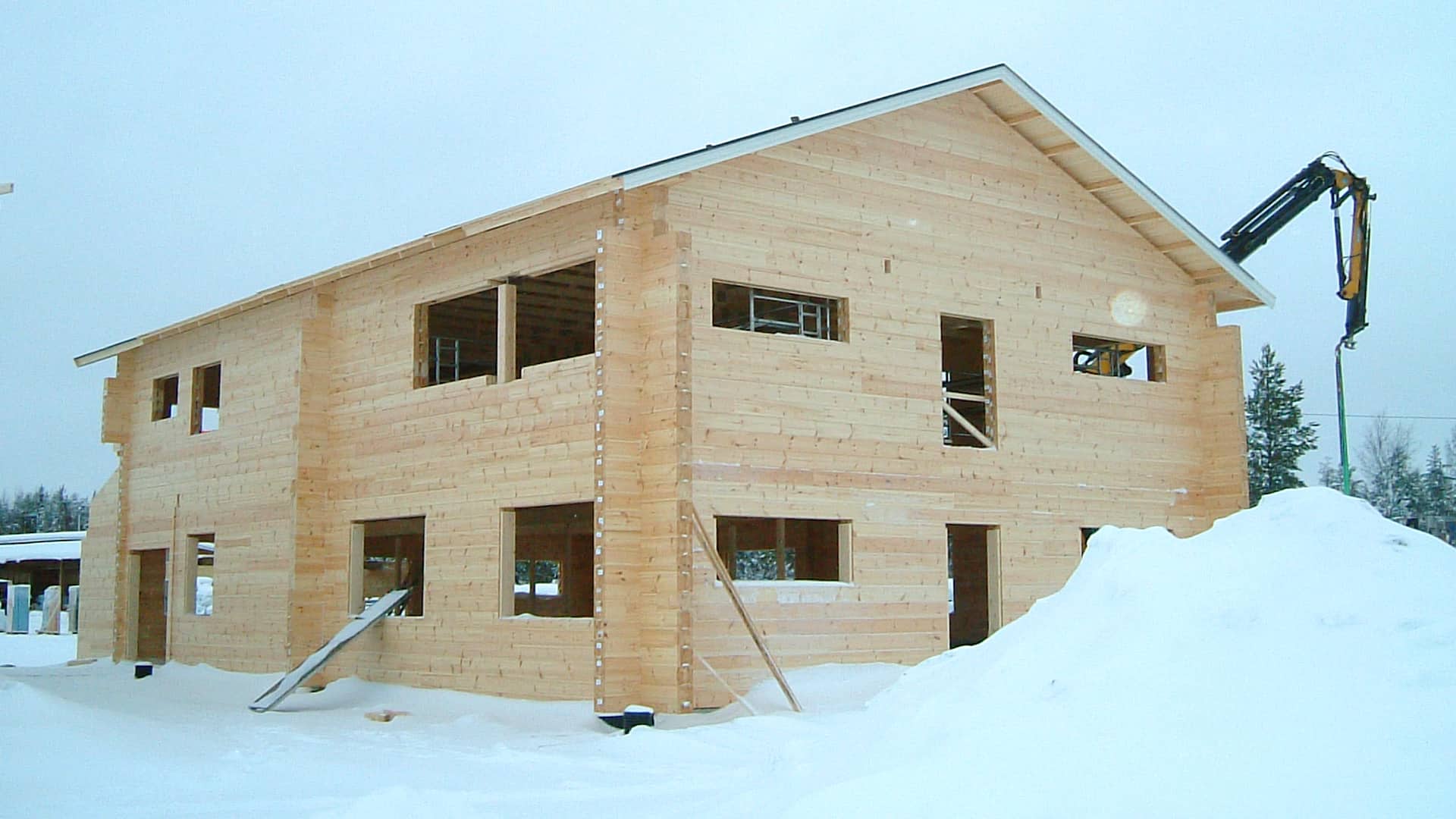 THERE IS NO NEED TO BE SCARED OF WINTER CONSTRUCTION
"For us, year-round construction is natural."

Johannes Määttä, construction engineer, Rakennus PoPo Oy
When asking for tips for a winter-time builder, Johannes remained quiet for a long time.
– This is a difficult question. For us, year-round construction is so natural that I have to think about this for a moment, he wonders. As the discussion continues, three particular points are raised.
1. Carry out the earthworks and foundation work when the ground is not frozen
The winter 2020 was exceptional in Southern Finland since earthworks and foundation work could be carried out in practice throughout the winter. Since no year is similar to the next one, it is worth starting any earthworks and foundation work no later than in the late autumn.
– Foundations should be completed while the ground is not frozen. Any structures that contain concrete or plaster must not freeze before their strength is sufficient, Johannes explains.
Once the foundations are ready and protected, a winter builder has a moment to rest before the timber delivery. At this stage, it is worth focusing your energy on choosing interior design materials and furniture. By phasing the work stages and decision-making processes, the building project with flow smoothly without the sense of rush.
2. Construction professionals are better available in the winter  
– Our installation calender is more open during the winter, so there are several workers at one construction site. This allows the installation to progress quickly, says Johannes Määttä.
– If necessary, more experienced installation technicians are easier to find for work, he continues.
In the summer, construction work may suddenly come to a halt when there aren't any construction professionals available when they are needed and there are schedule-related problems at the previous construction site. During the winter, it is less common for there to be a lack of skilled workers and professionals. When you define the schedule frame during the autumn, you will find a contractor and other partners to implement your dream project during the winter.
3. The delivery times of building and interior design supplies are shorter
Summers are busy for both building supply and interior design suppliers, and the delivery times of e.g. Windows and doors can be several weeks longer than the normal delivery times. This can be a surprise at the construction site and cause delays.
– During the winter, the delivery times of products are shorter and delays rarely occur, states Johannes.
While there is less demand, you may even save in material expenses.
– We have noticed that material prices are also more affordable during the winter.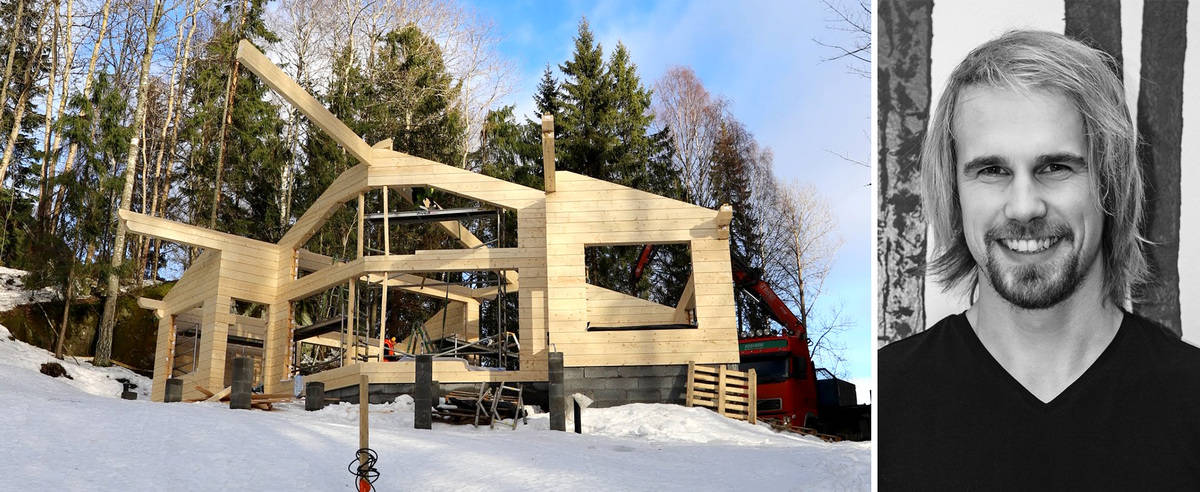 However, a wintertime builder should consider that enough space is reserved for building supplies arriving to the plot after the first snow ploughing work. Transport routes and the unloading sites of equipment are worth keeping clear of snow and it should be ensured that no piles of snow prevent work from being carried out. It is worth reserving some budget for additional snow-clearing, heating and drying expenses.
How do I benefit best from the winter construction?
"There is never too much time, but unnecessary rush can often cause tense nerves."

Antti Hokkinen, Sales Manager, Kuusamo Log Houses
The vendor of the house supplier should be contacted in a timely manner during the summer, or no later than early autumn, to gain the best advantage from the winter delivery benefit. The building permit process can take anywhere from a few weeks to several months depending on the building location.
– The sooner you get started and are able to define a schedule framework for the project, the better you will also be able to get your selected contractor and other partners to implement your dream, Kuusamo Log Houses' Sales Manager Antti Hokkinen explains when asking about winter delivery benefits.
In his opinion , the matter can be rounded up in such a way that there is never enough time, but unnecessary waiting often just causes tense nerves.
– Our sales representatives have realised that nowadays more and more builders wish to phase their construction projects so that they can have breaks between the rush of construction and constant decision-making.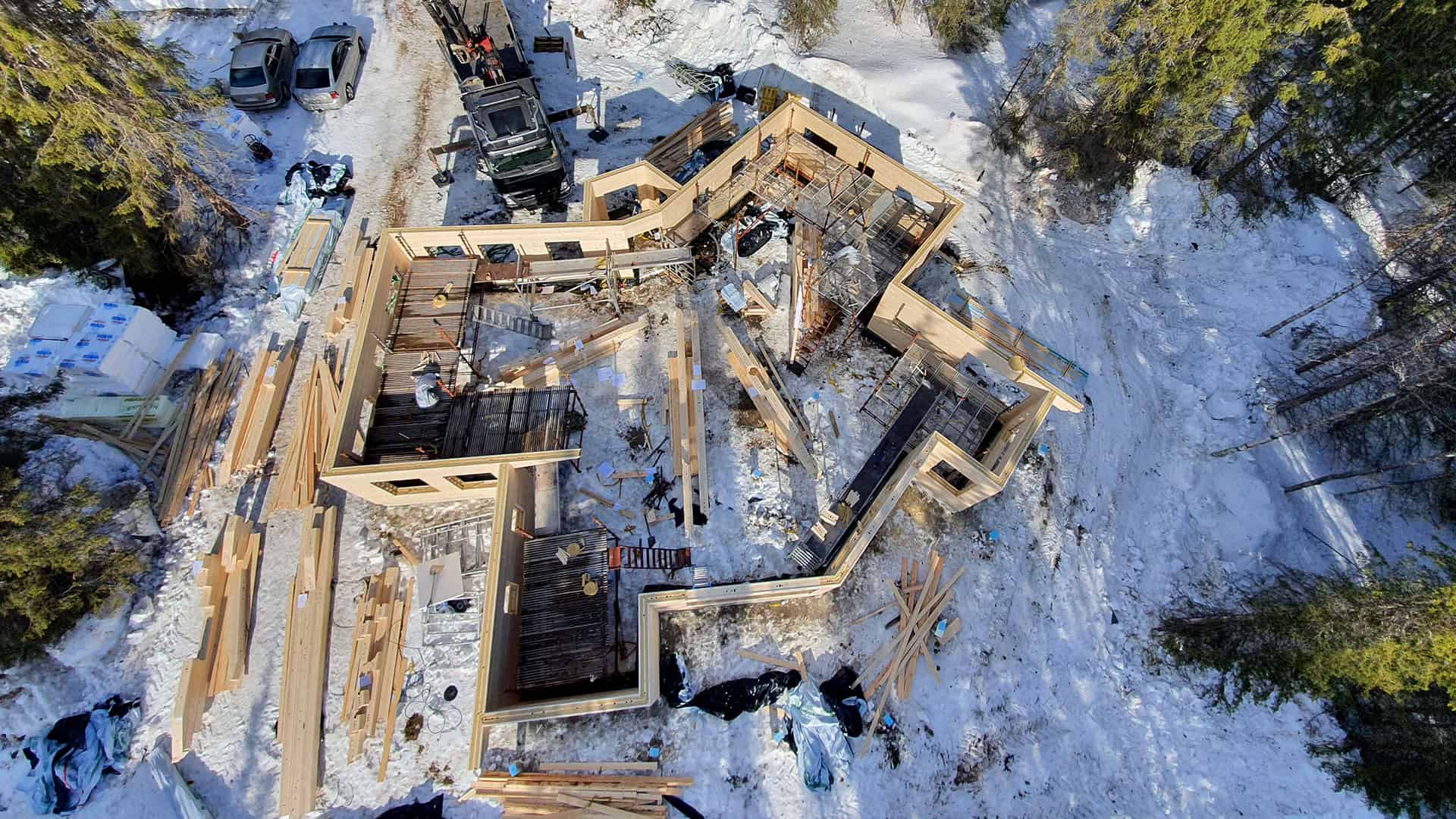 For a winter builder, this is achieved naturally through construction schedules. The foundations and necessary earthworks are carried out in the late autumn. After this, the rush at the plot stops for a while and it is time to make decisions on e.g. Interior design materials, fireplaces and furniture. In the early winter when the delivery arrives at the plot, these decisions have been made and the actual construction work can begin. Dreams on paper begin to form a dream home.
*Rakennus Popo Oy is a building contractor that mainly operates in the Uusimaa region in Finland and offers the weather-protected assembly of log sites delivered by Kuusamo Log Houses. They have assembled more than 30 different log houses.