Outdoor Education Centre Oivanki, which is situated in Kuusamo, offers services for children, young people, families and companies. The stunning Joutsen delivered by Kuusamo Log Houses meets the needs of the centre and the customers. The building has diversified the operations of the centre and also provided financial benefits.
Youth work manager, Panu Päivärinta, sits in a space that is heated by a fireplace, and admires the white landscape that opens out from the window.
– I am satisfied in how the overall building fits in with this milieu and the shore. This has been made for this location, Päivärinta considers in a satisfied manner.
"The product selection has been spot on"

Panu Päivärinta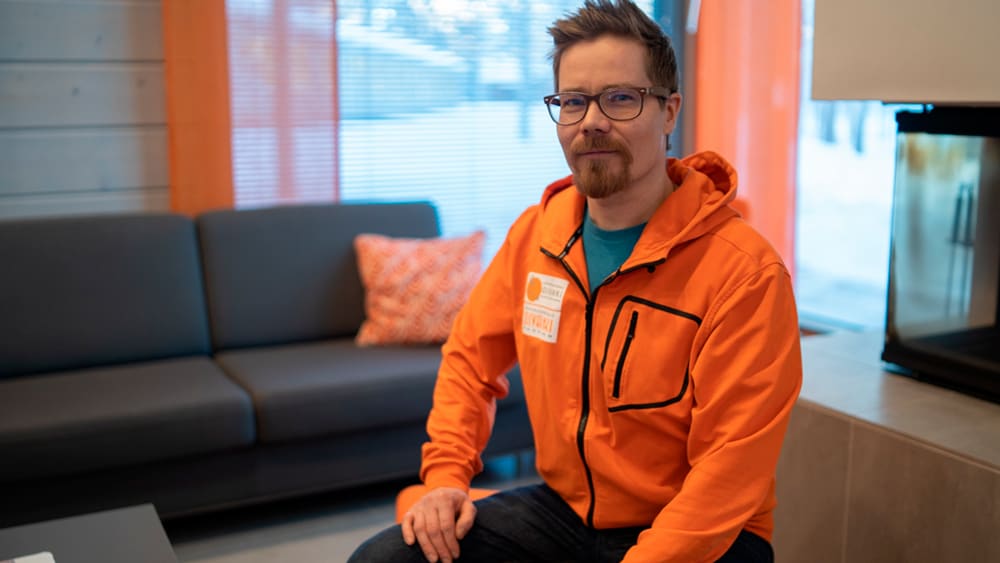 Oivanki had the need for diverse premises that would be suitable for youth and customer use. After tendering, Kuusamo Log Houses was selected as the supplier and the completed log building has two large saunas with changing rooms and shower facilities as well as a fireplace room.
– Why log? According to my own experiences, Finnish wood is particularly popular as a material. It breathes and is pleasant. The ceiling is high and provides space for thoughts to flow. There is light and space to breathe here, Päivärinta describes.
INFATUATED VISITORS
The customers of Outdoor Education Centre Oivanki are children and young people, as well as families, companies and communities. Päivärinta explains that they annually meet approximately three thousand young people as well as other age groups too. A very large amount of the customers are therefore able to enjoy Kuusamo Log Houses' building.
– The customers have liked it and these premises are extremely popular, although we have other stunning premises too. For example, international guests have been extremely infatuated in the quality of the premises, Päivärinta praises.
"WE CAN BE GRATEFUL FOR THIS OPPORTUNITY"
The procurement of the log building has increased the quality of Oivanki's operations. It not offers even better opportunities for tourists and local residents, and has thus provided the centre with financial benefits.
– On the basis of feedback we have received from groups and people, who have visited the premises, we have realised that we can be grateful for this opportunity to use such a pleasant venue. The product selection has been spot on, Päivärinta sums up with a smile.