Kaisa and Juha Järvi live in Salo with their four children. The family's home is a detached house that was built in 2013, and Kuusamo Log Houses delivered the materials for it. The residents have enjoyed their home thoroughly. Particular praise is given to the log home's good indoor air and the ease of the building project.
The family's home has a living area of 236 square metres, which also includes a basement space of 20 square metres where the technical room can be found. The children have large bedrooms, and the entire house is spacious and bright.
– We live in Tupuri, in Salo. We have four children and a dog called Nuppu. There is life in this house, Kaisa Järvi laughs.
"When you wake up here, you feel really happy to have achieved all this"
-Kaisa Järvi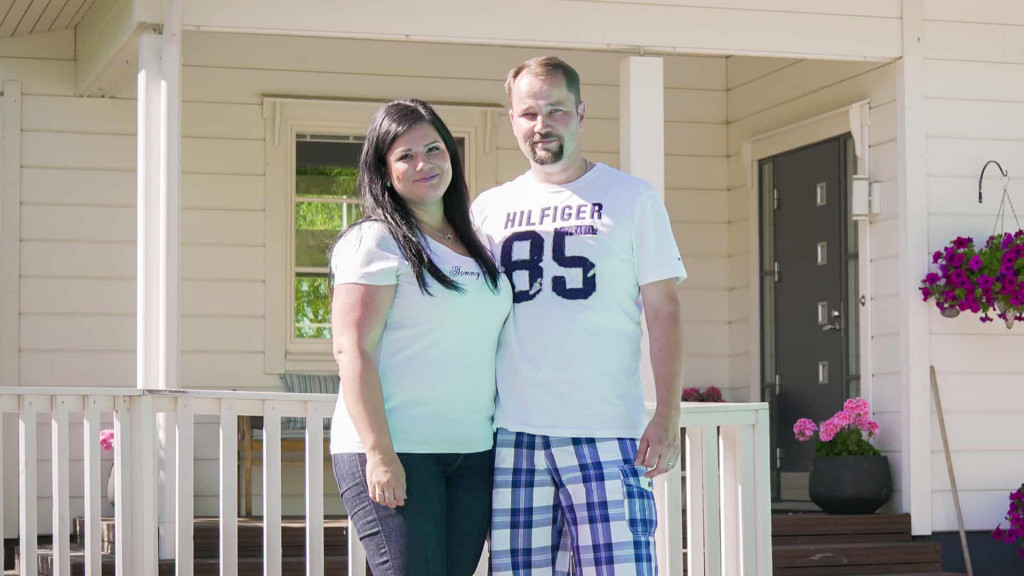 Infatuated by a log home and its good indoor air
The building project started when Kaisa fell in love with her friends' log home, which materials had also been delivered by Kuusamo Log Houses. The friends had almost the same model as the family's current home.
– Kaisa had once been visiting her friends. When she got back home, she said she wanted a log home. That's how it all started, Juha Järvi recalls with a smile.
– When I saw my friends' home, I said I have to have one like it. They had such good experiences with Kuusamo Log Houses, so we didn't even ask for house packages from anyone else. It was an obvious choice. Everything worked for us, and them, so well, Kaisa describes.
– I was initially impressed by the appearance of my friends' home. In addition to which I would always say, when we went to visit them, that let's go and visit the to breathe. The indoor air was excellent, Kaisa continues.
"The construction project progressed quickly"
Kuusamo Log Houses delivered all the material except for the surface tiling and flooring. All of the interior surfaces are made of log panels. The ceiling was also supplied via Kuusamo Log Houses. Juha completed the foundation and air conditioning work himself, and a plumber and electrician were responsible for their own work. The construction project started in the summer of 2012, and the house was ready to move in to in March 2013.
– The construction project progressed quickly. The house was erected in August, and already during the second day the house was at the height of the ridge. Our requested wishes were successfully achieved. We had one corner removed, so that we would have more space in the kitchen and bedroom. It succeeded well, and no separate charges were added. We were able to be directly in contact with the architects, Kaisa explains.
– Wind does not blow through the corners like neighbours and friends often think. The sheered corner joints have been air tight. Kuusamo Log Houses delivered high-quality materials, and spruce is good as an exterior material. A batch of interior panels was slightly weaker in quality, but new ones were then delivered in replacement, states Juha.
"IF YOU HAVE BEEN EXPOSED TO MOULD, A LOG HOME IS THE ONLY SUITABLE OPTION"
The Järvi family were unlucky during the construction phase when they moved in to a rental property that was mouldy. This led to Kaisa and the youngest child of the family suffering from symptoms and being ill. After living in the log home for four years, the situation has gradually improved.
– We now live in the best possible house. If you have been exposed to mould, a log home is the only suitable option, Kaisa emphasises.
TROUBLE-FREE AND EASY PROCESS
The family has enjoyed their home thoroughly. Juha no longer has the feeling of having to go abroad or even to a summer cottage, because he enjoys his time at home so much. According to Juha and Kaisa, the children have also enjoyed it.
– Many people think that construction is stressful. However, our experiences were so good, and I can recommend construction and Kuusamo Log Houses to everyone, Kaisa summarises.
– There have been no problems with Kuusamo Log Houses, everything we asked for was delivered, Juha sums up.
– I have always said that living in this house makes you feel like you've won the lottery. Not in terms of euros, but in terms of the feeling. When you wake up here, you feel really happy to have achieved all this, Kaisa rejoices.